A sizzling summer at The Pantiles
Summer at The Pantiles is always a season filled with exciting entertainment, and this year was no exception.
From vibrant food and drink festivals to live music under the stars, the historic Pantiles promenade transformed into a hub of activity throughout the sunny months of 2023.
Jazz on The Pantiles
A highlight of the summer were the Thursday night Jazz on The Pantiles sessions, which brought soulful melodies to the heart of Tunbridge Wells. The weekly shows attracted an array of local, national and international talent, with the audience being just as diverse. Performers included Groove Agents, Dino & Darby, Dave Ital, the Sue Rivers Quartet and The Swinging Little Big Band. There was even an exclusive acoustic performance from Vince Dunn!
Followers of The Pantiles took to social media pages to express their delight of the shows:
"An amazing night, thank you."
"A great night. Felt like being on holiday!"
"A fabulous evening of music."
"What a summer of jazz! Thoroughly enjoyable."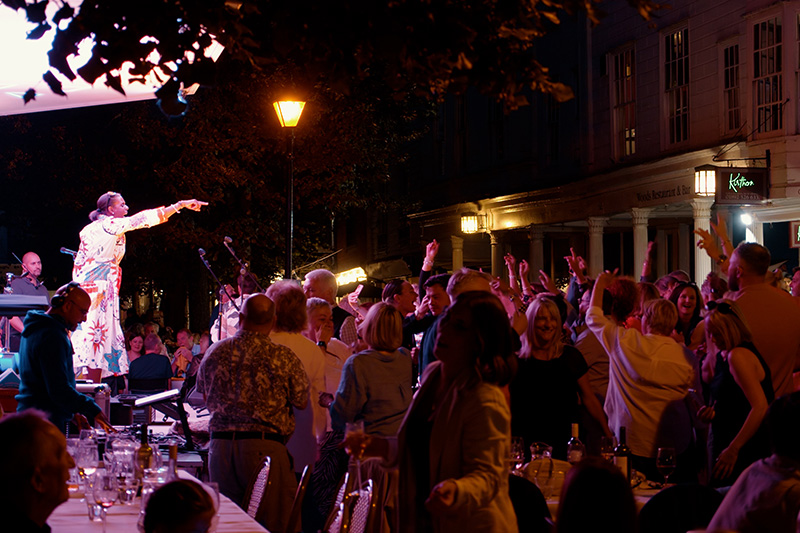 Soul Train
Soul Train returned to The Pantiles' iconic bandstand for an unprecedented three times in 2023, in the months of June, July and September. Playing the very best dance-floor classics of the last 50 years, the performers covered pop, rock 'n' roll, soul, funk and disco in their sets.
For three hours, each event saw the bandstand host amazing live music and DJs, including the brilliant Disco Odyssey. This exciting 6-piece band performed a string of classic hits by artists such as The O'Jays, Al Green, Curtis Mayfield, Kool & The Gang, Sister Sledge, Chic, Dua Lipa, Chaka Khan, Jamiroquai and many more. The seamless blend of classic hits and contemporary soul compositions showcased the genre's timeless appeal, transporting crowds to a realm of pure musical bliss.
The Tunbridge Wells Hotel, The Kirthon Indian and La Casa Vecchia all participated, offering a delectable variety of cuisines, ranging from authentic Bangladeshi food to Mediterranean delights.
The Pantiles Food Festivals
In May and September, thousands of foodies from Tunbridge Wells and beyond were treated to two glorious weekends of delicious delicacies at the lip-licking Sankey's Spring Food Festival and Harvest Food Festival.
Food lovers rejoiced as, Sankey's and The Pantiles teamed up to tempt tastebuds with seasonal delights. From the healthy to the indulgent, there were hundreds of products and flavours from local and national producers – a range of gastronomic morsels to suit all palates, from the 'stick-to-what-you-knows' to the adventurists! Visitors enjoyed a tantalising culinary trail with burgers, hotdogs, loaded fries, a Greek BBQ, cheese, wine, gin, vegan offerings and seafood via Sankey's.
There were also demonstrations by renowned chefs, utilising the newly installed kitchen unit supplied by Great British Kitchens & Interiors; a local company that has been creating beautiful, bespoke interiors since 1984.
At the Harvest Food Festival, Atul Kochhar – soon to open his newest restaurant "Essence" on The Pantiles – hosted a pop-up at the event. Indian born Atul is celebrated for his innovative culinary creations that blend traditional Indian flavours with modern techniques.
Live music accompanied each event, serving as a toe-tapping background to the gastronomic extravaganza. As well as senses being immersed in a symphony of flavours and aromas from around the world, the rhythmic beats of live bands made it a multisensory celebration!
The Pantiles has become renowned for its independent food and beverage offerings, Sankey's are proud to be at the centre of that scene and were delighted to host this year's food festivals.

Matthew Sankey

The Gin & Jazz Festival
In May, we celebrated The Gin & Jazz Festival. Thousands of people from Tunbridge Wells and beyond were treated to a fizz-filled weekend of sunshine, tasty tipples and top tunes.
Combining the nation's favourite tipple with the timeless joy of jazz seemed a no brainer, hence how the Gin & Jazz Festival at The Pantiles was born.
The event spanned from 11am to 10pm on Saturday 27th May and continued from 11am to 5pm on Sunday 28th May. Attendees were treated to over 150 gins, meticulously crafted by over 30 local and national producers, ensuring a remarkable and diverse experience. Stallholders at the event included Mermaid, Mayfield, The Rum Company, Birch Gin, Cantium Gin, Fever Tree and Charringtons.
The free-to-attend event saw visitors enjoying samples, sparkling wine, champagnes and street food. The audience were also treated to a gin masterclass on the bandstand, showcasing each producer's trademark cocktail/mixer – this was punctuated by live jazz music and DJs performed at regular intervals over the two days.
The weekend at The Pantiles was incredible and we were delighted with the turnout! The weather was on our side and the historic streets were a hive of activity.

Jason Vickers, Head of Marketing & Events at Cordis
The Pantiles Antiques and Vintage Fairs
As well as live music and food and drink festivals, The Pantiles hosts weekend markets throughout the year, often showcasing object d'art and collectables, drawing crowds from near and far. These events provide a delightful opportunity to explore an eclectic mix of treasures, and perhaps even stumble upon a hidden gem.
In June and August, The Pantiles hosted dedicated Antiques & Vintage Fairs. There were over 50 fantastic outdoor stalls at each event that were bristling with a variety of amazing antiques and collectable treasures.
What's more, TV experts were on hand to do valuations. These experts included Eric Knowles, Richard Price, David Harper and Charles Hanson.
Antiques and vintage fairs in the UK serve as bridges between the past and the present, allowing us to connect with history in tangible and meaningful ways. Tunbridge Wells, with its rich heritage and vibrant antique scene, stands as a shining example of how these fairs can provide not only a delightful shopping experience but also a journey through time.
Whether a seasoned collector or curious explorer, The Pantiles' antique and vintage fairs offered a unique opportunity to uncover hidden treasures and immersion in the charm of a bygone era.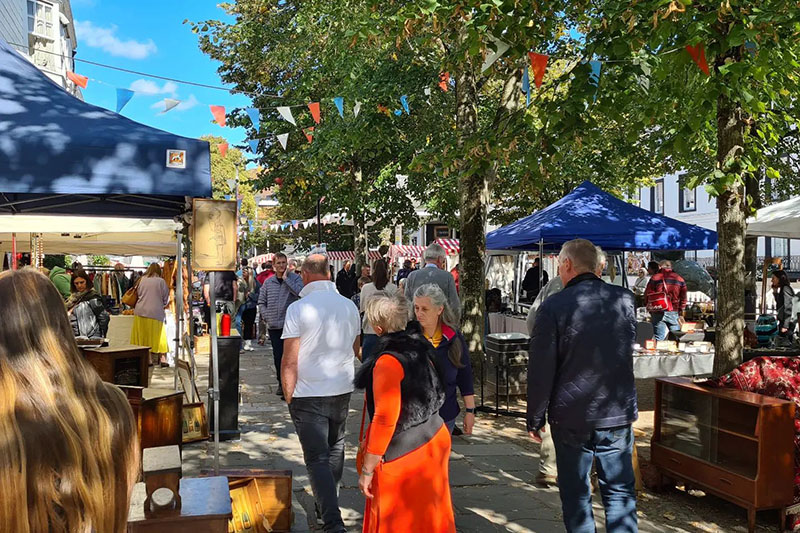 Cordis
The team at Cordis has had a blast organising and promoting the exciting range of events that have taken place at the location and we can't wait to see what's in store for the future. We would like to take this opportunity to thank everyone who contributed to such a successful summer event season, including visitors, sponsors, stall holders, performers and staff. We can't wait for what winter 2023 has to offer!
When it comes to events, Cordis can help you with everything from booking performers to managing logistics. With years of experience, we can create an event that's sure to stand out from the rest.  Our creative and enthusiastic team is always on the lookout for new opportunities to help businesses reach their full potential. As a full service marketing agency, we have the skills and expertise to help your business thrive.
If you're a business looking to make your mark, we'd love to hear from you!