Face masks – a new fashion statement?
After the government's announcement of mandatory facial coverings in shops and public transport, it is clear that masks are likely to become part of our wardrobe for the foreseeable future.
While medical-grade masks should be reserved for NHS and frontline workers, a simple cloth face covering is enough to reduce the spread from person-to-person by 50 to 100 per cent, depending on the design.
Since we're all wearing them regularly, it's important to feel comfortable in a mask. While the majority accept them purely as a utilitarian accessory – the more image-conscious of us may have stopped to consider how the colour of their facial covering corresponds to their outfit. Just as jeans, running shoes and sunglasses transitioned from apparel designed for functionality to sought-after fashion statements; could masks face a similar public image metamorphosis? 
… a mask is a sartorial sign the wearer is willing to sacrifice some freedom and comfort for the common good. The meaning we give to these masks matters."

– Liz Bucar, a professor of religion at Northeastern University

Celebrity endorsements
Although mask wearing has only recently been made mandatory by the UK government – various European countries and American states were weeks ahead of Great Britain. According to The COVID-19 Behaviour Tracker, nearly 60% of people in the US said that they would always wear a face mask outside – a figure juxtaposed by the mere 20% in the UK. 
With such a cultural disparity, it's no wonder that Britons remain somewhat confused by the Hollywood celebrity's devotion to mask-wearing. From Jenifer Aniston's straightforward Wolford black covering to Charlize Theron's floral facial protection – even Johnny Depp is rarely seen in public without a paisley scarf, wrapped around his face. The sight of aspirational A-list movie stars taking the appropriate measures at preventing the spread of the coronavirus, has helped transform a practical item into a unique accessory – capable of reflecting the wearer's style. 
Stay safe… and stylish?
There are now tie-dye masks. Masks made of silk, denim as well as the polyester and elastane used for bathing suits. Masks that come with reversible sequins. Sparkly coverings suggest "I am ready for a party" and pinstriped masks imply "I am ready to work."
Following in a similar vain to the DollarShaveClub.com, there is now MaskClub.com.  For $9:99 per month, the company sends you multiple coverings – many of which are licensed by brands such as Hello Kitty, NASA and DC Comics, among others, allowing the wearer to advertise their taste in cartoons or sports. 
Collina Strada, the New York-based fashion brand, is selling brightly coloured masks with ribbon-trailing bows, made from deadstock fabric from past collections. The face coverings, which have an opening to insert a filter, retail for $100; for every one sold, the brand donate five to healthcare workers. 
Despite the innovative convergence of style and protection, as well as the various charitable gestures from companies; fashion can often be tone deaf. Boohoo was quick to market jaunty £5:00 fabric masks, with the slogans "Eat, sleep, isolate, repeat" or "If you can read this, you're too close". These statements were deemed tasteless by various customers; including an NHS nurse, who launched a scathing attack on the brand, leading them to withdraw the product.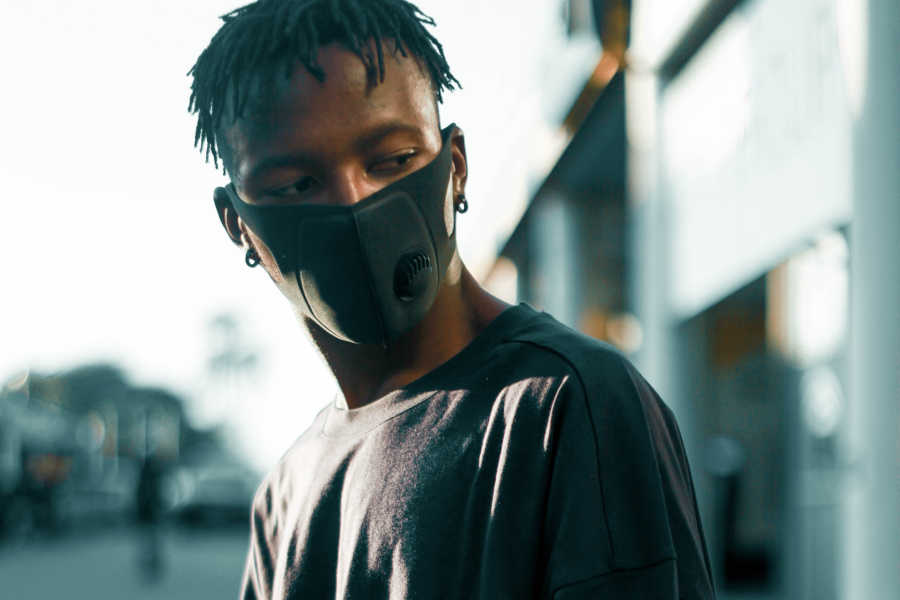 Things to remember
Safety always takes precedence over style – hence why we must be aware of multiple features when purchasing a mask. Firstly, you must assess how comfortably it presses against your face. Does it sit over both your nose and mouth, while still allowing you to breathe without restriction? The covering is designed to facilitate your good health and hygiene, therefore you'll also want to make sure it can withstand a regular spin in the washing machine. Purchasing a mask with a fitted pocket for replaceable air filters is another top tip. 
There is some concern that wearing a mask instils the wearer with a false sense of security. While it is indeed true; with the right materials, a cloth mask can insulate you from 50 per cent of airborne micro-particles – it is important to remember that they are not full protection. However, when masks are combined with the 1-metre-plus rule and thorough hand hygiene, your chances of contracting or transmitting COVID-19 significantly diminish. 
Cordis
At a time when clear and concise communication should be the priority of every company; we've been helping businesses get back on track upon the easement of lockdown measures. From the creation of posters, graphics and animations that raise customer awareness of newly implemented COVID-19 safety measures – to the formulation of social posts and blog content that keep audiences updated on the ever-changing situation; Cordis have you covered!