Get back to business: how marketing can help you reopen safely
Until the release of a vaccine, there is no life post-COVID-19 – only life with it. As the situation remains ever-changing; it's impossible to accurately forecast – but with the government set to introduce a conditional re-opening of stores from June 15th; it's integral that retailers forge a plan of action in this era of social distancing.
In order to ensure the health and safety of customers, the general public must adhere to strict hygiene measures and social distancing protocol. Effectively enforcing these rules is dependant on strong communication – be that through digital or physical mediums. 
Communicating with customers
Understandably, consumers will remain anxious about shopping in crowded locations. Shopping has always been a social event, but new restrictions on our movement and personal interaction risk undermining the experience. 

Chief Executive of Retail Economics Richard Lim
The most avid shopper will neglect to visit your store if they view the risk presented by COVID-19 as too great. It is therefore of the utmost importance that your business heavily publicises the lengths that you and your staff are taking to ensure the safest possible customer experience.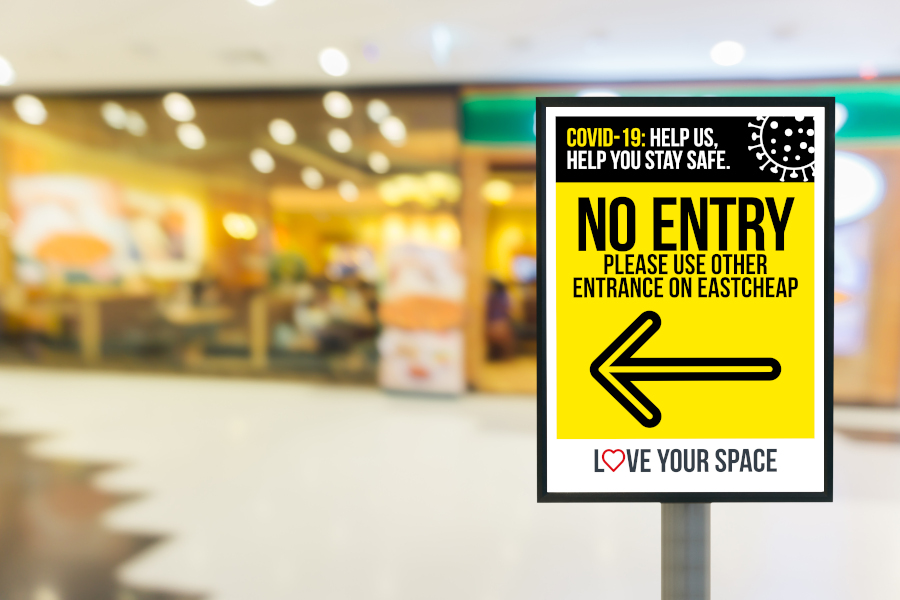 Leaflets, posters & floor markers
Leaflets are a somewhat archaic, but nevertheless incredibly efficient method of updating your customers with the latest information and what is expected of them whilst on your premises. Compose content that consoles your audience; assure them that all variables have been considered and appropriate action is being taken to provide a safe consumer experience.
Posters are also essential; they must be positioned at the entrance of your shop and designed to immediately arrest consumer attention. Be aware of the colour choices – black and yellow are commonly associated with warning signs; perhaps due to their association with the natural world. Bees and wasps around the world are yellow and black to signify how dangerous they are – warning predators to stay away. When this colour pairing is utilised in signage – the subconscious human reaction is to take notice in case of a "sting". The colour's visibility combined with the feelings of danger it inspires make it perfect for the tier of danger below red. While red signs connote immediate dangers – yellow telegraphs a potential hazard; relative to the current COVID-19 crisis.  
To help customers keep their distance, it will be important to mark spaces on the floor 2m apart – starting at the till. Opting for an eye-catching aesthetic akin to your posters will be key; but you need to ensure that the floor markers are resistant to heavy footfall – as well as water and excessive utilisation of cleaning products. A matt vinyl finish will also be integral in preventing customers from slipping on the sign. 
Digital awareness
As well as communicating in store – retailers need to think about what they can also say via social media, blog content and email marketing. A great example would be America's Pop-up Grocer: after announcing they'll reopen in June, the company expertly used their socials to promote in detail all the safety measures they'll be implementing to their followers. Whatever you do, make sure you're true to your brand's unique tone of voice – anything too sterile or clinical could put customers off. Communicate in a way that doesn't feel alien to you. 
Videography is another excellent way to instate your social distancing guidelines. Consumer confidence can be attained by editing a one minute clip – illustrating the measures taken to provide a safe shopping environment – or even composing a short animated motion graphic establishing the new rules. This content can be populated via social media.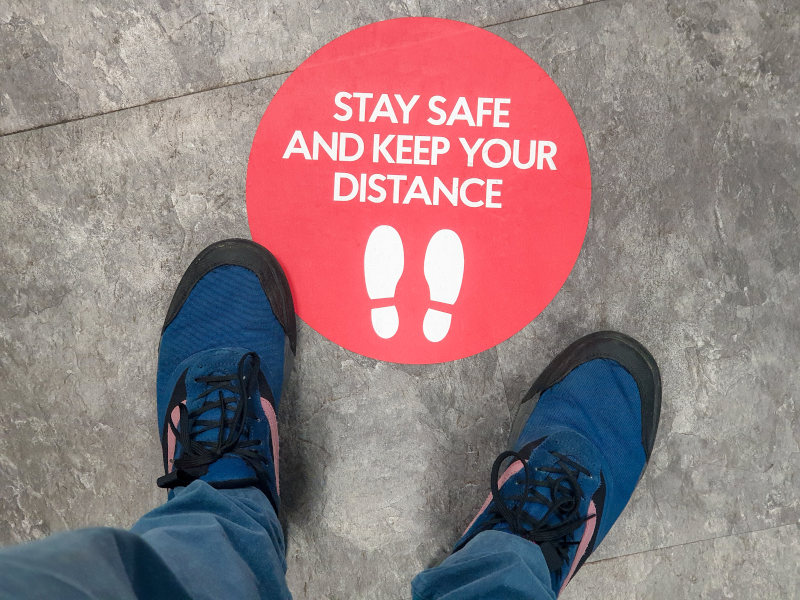 Back in business
Shops now have the time to implement this guidance before they reopen. This will ensure there can be no doubt about what steps they should take.

Boris Johnson
Now we are gaining a firmer understanding of COVID-19; businesses are able to adapt with efficiency. The retail sector is working with concepts derived from scientific studies; preventing the spread and enhancing the safety of the general public. While marketing will be an invaluable asset in keeping coronavirus at bay; it will only function efficiently when in tandem with the incredible efforts taken by hard working shop staff. 
If you're looking for a multichannel awareness campaign that will quell consumer concerns – Cordis are experts in producing attention-grabbing graphic design, engaging social media campaigns, informative copywriting, as well as striking video content. Get in touch with us today – we can help you get back in business!