Salle Moor Hall Farm's Spooktober Market
On the 29th of October, Salle Moor Hall Farm hosted a ghoulishly delightful day of autumnal treats and Halloween fun.
Organised by Native2Norfolk, Cordis Creative assisted the marketing efforts for the Spooktober Market that saw over 30 traders set up stalls at the farm, offering a range of fang-tastic goodies.
Handcrafted wonders
Held just two days before Halloween, stallholders selling arts and crafts at the Spooktober Market intwined the cosy ambiance of autumn with the eerie atmosphere of the spooky season. The market included a variety of traders, from familiar faces to newcomers.
Salle Moor Hall Farm's tenant, Blue Flame Glass Studio, brought her enchanting world of glass artistry to event. The incredibly talented Claire offered exclusive Halloween-themed creations and an open workshop that allowed visitors to get behind the flame and try their hand at glass blowing.
Alongside Blue Flame Glass Studio, the market featured a dazzling array of crystals from MoonBeams, a selection of items made from repurposed textiles by Reworked Canvas, home-crafted wonders from Candy K Creates, The Honourable Wickhams Candle Co, Pippin's Handmade Gifts, Jan-Marie Crafts and many other creative talents!

Culinary magic
Of course, an autumn gathering wouldn't be complete without a selection of culinary delights. Upon visiting Salle Moor Hall Farm's market, you'd be first greeted by the aroma of freshly baked goods from a varied selection of local traders.
A plethora of incredible foodies joined the fun, including; Becky's Cake & Bakes, Little Blue Pup-Cakery, Folks Bakery, Sweet Smiles, Little Green Larder and Doodle Donuts. At the Spooktober Market, it was always treat – never trick!
For those saving their sweet tooth for 31st of October, there were plenty of savoury offerings. From Fryers-Style Cottage Pies, freshly cooked food from Owie's, the organic produce of Threshing Barn Farm to Bonnie Bonbons' charcuterie boards and the earthy delights of Norfolk Mushroomery – there truly was something for everyone.
Once we finished tucking in, the delicious food was washed down with a selection of craft beverages from Norfolk Spirit Co, Panther Brewery and Salle Moor Hall Farm's amazing tenant, All Day Brewing, who set up a minibar on site with their new ruby and golden beers on tap! Cocktails were also available from Mindful Mixology as were beautiful Southern Italian wines from Via Vigna. What a tasteful way to end an afternoon!
z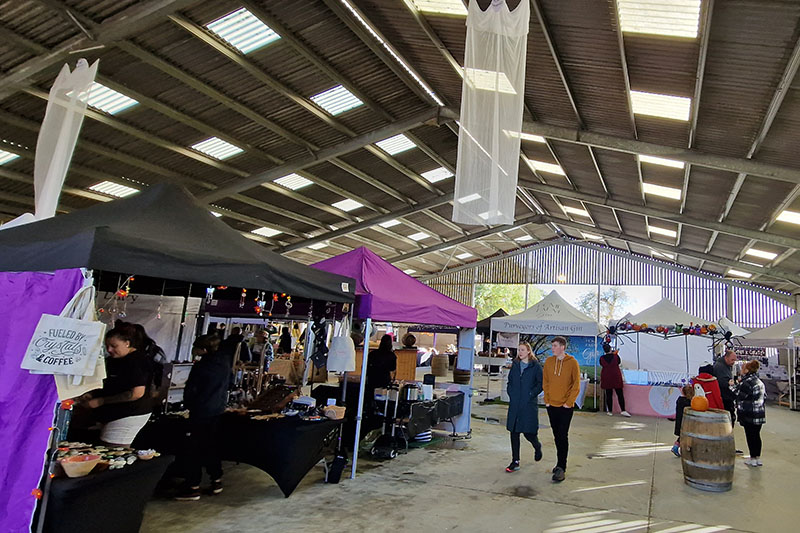 Cordis
Sunset brought the soft glow of lanterns and twinkling lights to the market. Whether visitors were indulging in culinary delights, shopping for unique gifts or simply soaking in the atmosphere – Salle Moor Hall Farm's Spooktober Market offered a day of pure autumnal magic.
Partnered with Targetfollow Estates Limited, the team at Cordis are committed to the overall marketing this historical estate. Using our skillset in website design, social media marketing, copywriting and videography, we have helped Targetfollow turn Salle Moor Hall Farm into a thriving platform for creativity and commerce.
If you're interested in enhancing your marketing strategy surrounding an event or asset, get in touch with Cordis today.