Successful Halloween high jinks
To celebrate All Hallow's Eve, Cordis devised, designed and managed an array of ghoulish festivities at various retail venues, including; Peterborough One Retail Park in Cambridgeshire, Pescod Square Shopping Centre in Lincolnshire and Garden Square Shopping Centre in Hertfordshire.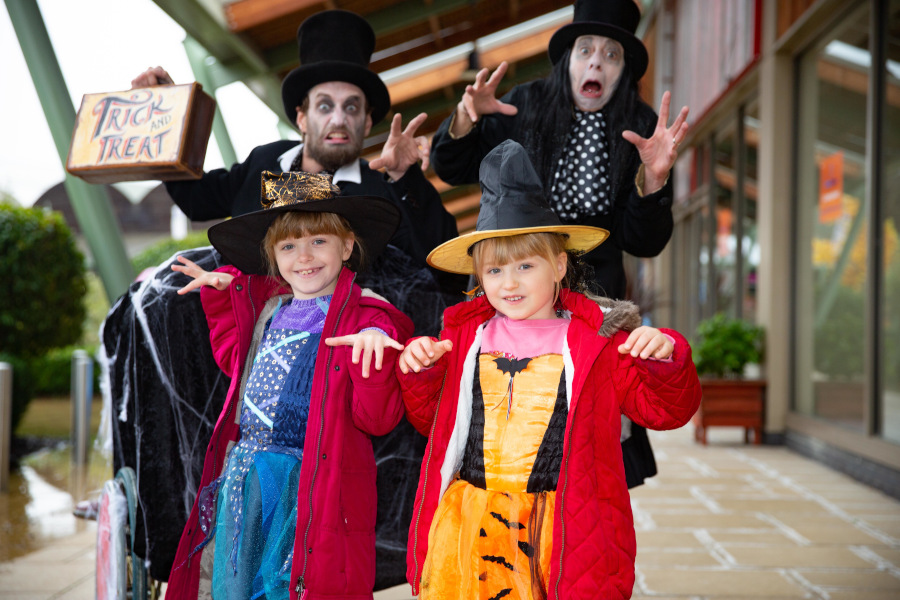 Peterborough One Retail Park
Built in 2010, and located just outside Peterborough, Peterborough One Retail Park is renowned for its distinctive architecture and landscaping. The park houses Van Hage Garden Centre, along with retailers ranging from fashion to pets. In a bid to bring new life to the shopping destination, Cordis was appointed to manage the retail park's marketing several years ago. Since then, the park has seen an array of successful events and campaigns, all increasing awareness of the brand and encouraging more visitors. This Halloween was no exception!
On Friday 25th and Saturday 26th October, children were invited to spend their half-term break making monster mitts and cackling candles in two craft workshop sessions.
As the cauldron of creativity bubbled; two Fantastic Phantoms lurked beneath the shopping centre's canopy. Performing their Trick & Treat Show, this spec-dracula duo entertained young and old with their mesmerising magic tricks and freaky frolics.
Curious children could also comb the park in search of spooky stories, as the Look for a Book initiative commenced. This ongoing initiative at Peterborough One encourages families to spend time together searching, reading and re-hiding books; an endless treasure hunt with an educational twist!
Peterborough One's shadowy shindig was a huge success; with over 300 children participating in the two craft workshops. Additionally, all the petrifying page-turners were discovered, making Look for a Book a wicked triumph! Footfall to the park increased and the event organically reached over 40,000 people on social media.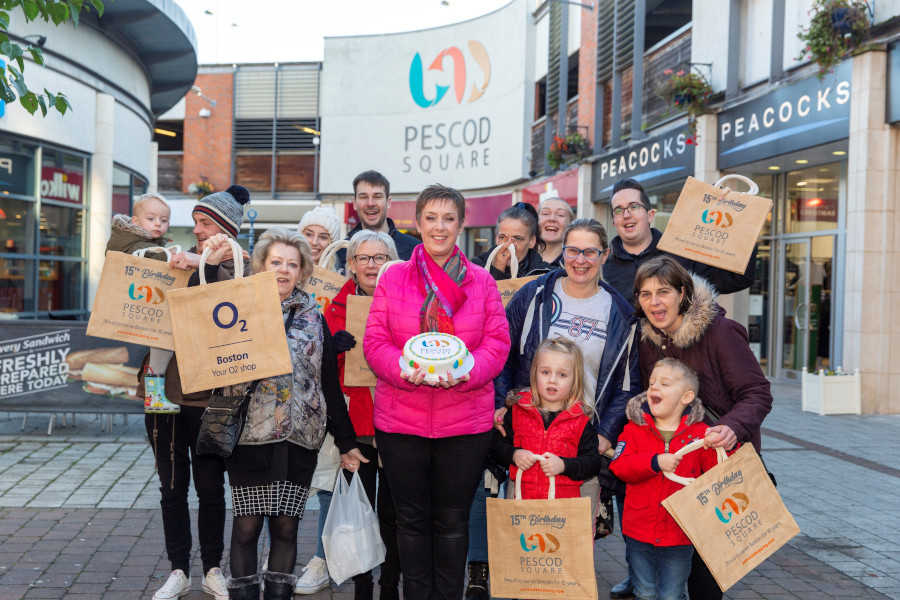 Pescod Square Shopping Centre
Pescod Square Shopping Centre is located in Boston, Lincolnshire and covers 93,000 square feet. From fashion to eateries, Pescod Square's range of stores and cafes are the perfect place for retail therapy. Cordis provides a comprehensive marketing and design service to the shopping centre, which has seen fantastic results over the years.
Halloween 2019 marked Pescod Square's 15th birthday; thus, Cordis helped the shopping centre celebrate in spooktacular style! On Wednesday 23rd October, Boston's children were invited to a Trick or Treat craft event, where they could create their own ghostly goody bag. The event proved to be a fang-tastic success, with over 200 children taking part.
Additionally, Cordis organised a birthday party for Pescod Square on Sunday 27th October, in association with Endeavour FM. The event included live entertainment, music, dancing, games and competitions – including the opportunity to win over £200 worth of prizes. Cordis also designed a commemorative tote bag – available to customers who spent £15 or more in any of the shopping centre's stores.
Marketed with precision via social media; the promotion attained an organic social media reach of over 30,000 people. Pescod Square also saw an increase in footfall over the event period.

Garden Square Shopping Centre
Garden Square Shopping Centre in Letchworth, Hertfordshire comprises over 30 stores. From high street names to independent stores, Garden Square is the premier venue for shopping in the town. Cordis provides a comprehensive marketing and design service to the centre and has done for several years. Fantastic results have been achieved over time, hence the centre's loyalty.
For Halloween, Cordis organised another cackling craft workshop which gave children the chance to design and decorate their own spooky lantern. Attendees could subsequently upload a photograph of their illuminating creation to social media for the opportunity to win a spellbinding £50.
Over 300 children took part in the activity, footfall to the centre increased, the social media promotion organically reached over 30,000 people and the centre received plenty of positive comments about the event on its social platforms. The event was another monster smash!
Thank you to all involved for providing this FREE entertainment/activity. It really is much appreciated.

Rachel Martin (Letchworth parent)
Christmas is coming
Now that Halloween is over, everyone at Cordis is digging out the festive knits, dusting down the baubles and planning some cracking Christmas celebrations – keep an eye on Facebook, Twitter and Instagram to find out more.
If you would like to revitalise your venue; look no further than Cordis. As a full-service marketing agency, we organise eye-catching events, paired with dazzling design and show-stopping social media to ensure your brand gets noticed.