Ukraine crisis: brands take action
As the Russian invasion of Ukraine continues, we can't help but feel powerless – glued to our various screens, watching horrific scenes unfold from the sanctity of the Western world.
However, brands big and small across the world are realising the considerable power they have in the face of the crisis. Many businesses are taking action with messaging and financial support for the war-torn nation or by ceasing business with Russian entities – and it's clear that consumers are paying attention.
Russian boycott
The first line of response from many companies has been to cease trade with Russia. The European Football Association (UEFA) was fastest to act by moving the Champions League final from Russia to Paris on May 28. This was quickly followed by the European Broadcasting Union prohibiting Russia from partaking in the Eurovision Song Contest.
Apple later said it would pause all product sales and block access to state media outlets Russia Today and Sputnik from the iPhone's App Store outside the country. Nike paused Russian orders through its website and British online fashion retailer Asos decided that it is "neither practical nor right" to continue trade in the country. McDonald's, Coca-Cola, Starbucks and have also halted all business in Russia indefinitely over Ukraine invasion.
Warner Bros. Pictures also announced that their blockbuster film "The Batman" will not hit cinemas in Russia. This was a move that closely followed a decision by Walt Disney Co. to also pause the release of their new Pixar film, "Turning Red".
A number of major musical artists including Green Day, Eric Clapton, Imagine Dragons, and the Pixies have all cancelled upcoming shows in Moscow and St. Petersburg. One of Russia's most popular rap artists, Oxxxymiron, also canceled several sold-out shows in Russia in support of Ukraine.
Despite this, a recent survey taken after the invasion by the Association of National Advertisers found that of the 23% of its 180 members that do business in Russia, only 25% have suspended or reduced media spending in that country. A figure that is likely to change as consumers put more pressure on brands.
Donation
Alongside the boycott, many businesses have been donating profits to raise money for Ukrainians in need. The fashion industry has been particularly philantrophic – rallying the industry's stars, from designers to its best photographers, to raise money with limited edition t-shirts and prints.
One of the most in-demand runway models, Gigi Hadid, announced that she's donating all of her earnings from the Fall 2022 shows to aid Ukraine. Chanel also donated €2 million to two relief organizations, CARE and UNHCR-UN Refugee Agency, which is "recognised for refugee support at the borders and for the specific care of families and children."
Of course, it's not just the fashion industry who are offering charity to Ukrainians – Swedish brand Ikea have donated €20 million (£17 million) to Ukrainian refugees who have had no choice but to leave Ukraine. Airbnb is also waiving all guest and host fees on all bookings in Ukraine at this time. In response to this, people across the world have booked more than 61,000 nights in Airbnb locations across Ukraine. This totalled to a value of nearly a $2 million – a sum that will now be donated directly to Ukrainians in need.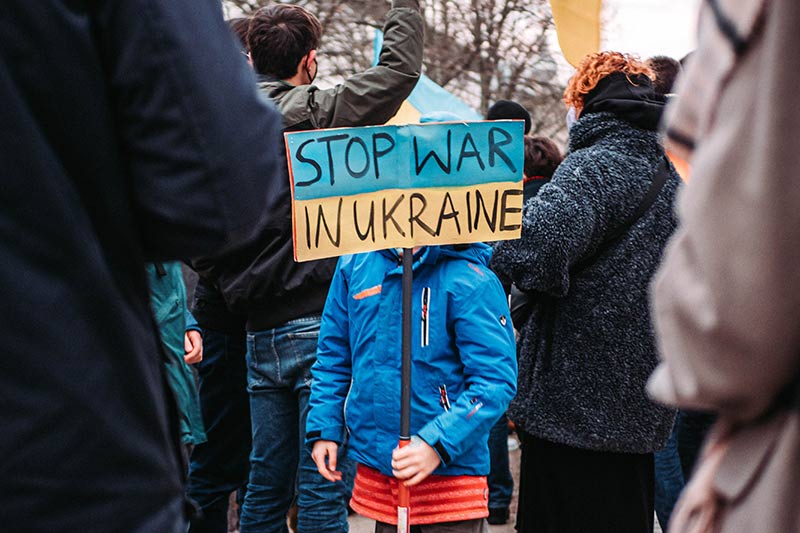 No action is too small
Remember, businesses can make a positive impact whatever their size. Here are some of the ways in which you can make a difference:
Launch a flash 'fundraising sale'. For example, 25% of every sale will be donated to a charity helping people from Ukraine. Remember to let your clients know and ask them to share the news about the charities appeal with their own network.
With Mother's Day coming up, consider a tie-in fundraiser in aid of Ukraine. Donate a percentage of your best-selling Mother's Day products to help women and their children affected by the war.
Raise money for those in need through a gift voucher. Whether you are a beautician or a restaurant, a gift shop or a gardener – launch a special fundraising gift voucher scheme and donate a percentage of sales to a charity helping Ukraine.
Cordis
As the war continues, awareness is growing across the globe and consumers are watching to see what happens next. Social media can be a platform for brands to rally others to the cause, or for regular people to call out companies that have not taken action. Experts urge all marketers – those with ties to Ukraine and Russia and those without – to be proactive and have a plan in place.
As a full service marketing agency, Cordis' broad skillset allows us to utilise various methods of communication to reach a vast audience. This will maximise the potential of your campaign and help make a difference in Ukraine.