What is SEO & why is it important?
If you've ever dipped your toe into the world of digital marketing, you probably know that Search Engine Optimisation (SEO) is a vital tool. It entails a variety of strategies, best practises and methods that all work toward enhancing the position of your website in search results.
The question is; how exactly can I use SEO to benefit my business? In this week's blog, we're exploring the process and offering a few tips to help point you in the right direction.
What exactly is SEO?
SEO is the process of enhancing non-paid (often referred to as "organic") search engine results to increase both the quality and quantity of website visitors as well as brand visibility. In short, it's Google's way of determining which sites deserve to be ranked highly for each query entered into its search engine.
To optimise your website for search engines, you firstly need to understand what people are searching for online, the answers they are seeking, the words they're using and the type of content they wish to consume. Of course, knowing the intent of your audience is only one side of SEO; the other is presenting that information in a form that search engine crawlers can access and comprehend.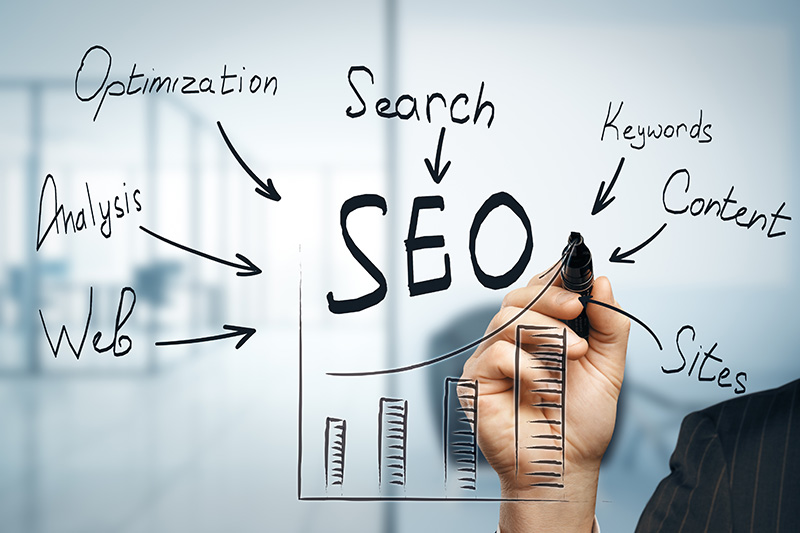 How search engines work
These crawlers (or spiders) exist within every search engine – their role is to scour the internet and find new web pages. The search engine then adds the pages it discovers to an index, which is a list of all the pages it has crawled.
When you enter a query into the search field, the engine goes through its index, finds the results that match your search and ranks them in order of relevance. The links to which are then displayed on the results page of the search engine.
How to optimise efficiency
A site must be appropriately tagged for all pertinent search terms, down to the level of individual pages, in order for it to be fully optimised. Website continuity must also be satisfactory; this means, consistent but careful use of specific keywords and copy that flows seamlessly from ad to landing page. If these elements aren't in place, not only will the search engines dismiss your site – but your audience will leave in a state of confusion.
It is also important to ensure that your site has no broken links or badly functioning pages. This is because the last thing search engine crawlers want to do is to send users to dysfunctional websites.
Understanding SEO is complicated – thankfully, the team at Cordis have 20 years of combined experience helping businesses improve their search engine rankings. Find out more about how we can help perfect your SEO strategy.
Content
Content is the key to reaching and engaging audiences; this makes it the lifeblood of SEO. Before you start crafting, it's essential to know your angle, update your content regularly and utilise the keywords you want your website to be linked to.
To maximise effectiveness, keywords must be well-researched and selectively chosen – they can therefore help you build authority, trust, consistency and engagement. Always remember, the aim of content is tell an audience of existing and prospective customers who you are and what you offer.
Anything your audience views or hears is considered content. This includes:
Blogs
Webpage text
Infographics
Videos
Social media posts
Podcasts
Newsletters
Crafting quality content for your target audience that maximises SEO efficiency can be a difficult task. We recommend working with a team of experienced content creators who can craft content that evokes and inspires.

Enhancing the visitor experience
Besides increasing the overall visibility of your website, SEO is critical because it increases the overall usability of your site, thereby enhancing the online customer experience with your brand. For example, the measures you take to ensure the responsiveness of your site will make it usable for mobile visitors as well as those who browse from a laptop or desktop.
Remember; the longer the load time, the higher the bounce rate – and ultimately, the lower your conversions will be. Consumers are inpatient – if a page continues to load beyond the three second mark, they're highly likely to hit the dreaded "back" icon. By optimising content correctly for search engines, you will reduce bounce rates and encourage visitors to spend longer on your website.
Without the right expertise, building a website that melds eye-catching design with functionality can be difficult. From website management, design, security and hosting, our creative team of digital experts can enhance the user experience of your page and have you climbing those search results!
Cordis
SEO helps consumers when in need, and implementing robust, quality SEO will benefit brands and their marketing efforts. At Cordis we're passionate about quality website builds and would be delighted to help you improve your online presence. Simply get in touch to find out more.