What's next for women's football?
Women's football has come a long way – to think, it wasn't until 1970 that The Football Association ceased its ban on women playing the sport.
Just over 10 years ago, many of the Lionesses were semi-professional players with most having second jobs. Commercially, rights holders would 'bundle in' the women's game as added value when brands were negotiating men's football sponsorship deals.
A decade later and the women have achieved what their male counterparts haven't since 1966 – a win in a major football tournament. Their victorious final against Germany was a defining moment for women's football in England and the impact on the game is set to be enormous.
Viewership normally determines the magnitude of sponsorship. With a record-setting TV audience of 17.4 million, it's safe to assume that this tournament will be a catalyst for a business revolution in the women's game.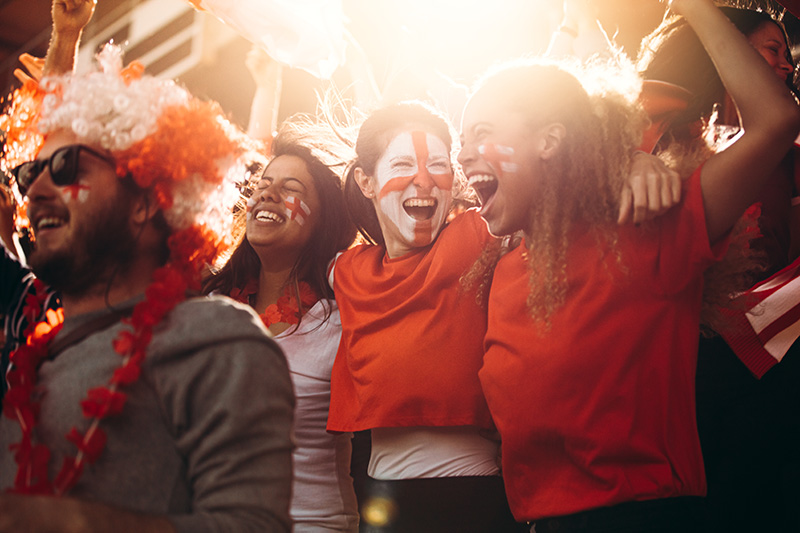 Money makers
The train has left the station and it is gathering pace.

Alex Scott, Former England International and TV Pundit
Experts believe that the increased pace should lead to more sponsorship deals, as well as higher wages for the top stars. At the moment, the average wage in the Women's Super League are estimated at around £47,000, with some players reportedly earning as little as £20,000 a year. However, the Lionesses' success could help wages to rise closer to the likes of European giants Lyon, which is believed to hand its top players €500,000 (£420,000) per season.
A pay increase may only be the beginning for England's stars. With the Norwegian football sensation Ada Hegerberg, landing a £1m-plus deal with Nike – the sky is perhaps the limit for the Lionesses.
Smart sponsorship
Globally, interest in women's football has grown by 46% over the last decade, with over 330 million people interested in the sport. It's figures like this that attract commercial investment from sponsors.
Big names such as Visa, Heineken, LEGO and Pepsi have already helped increase organiser UEFA's revenue stream by £25-£33m per year. Other tournament sponsors include Booking.com, Euronics, Grifols, Hisense, Just Eat Takeaway.com, Volkswagen, Adidas, Hublot, Nike, TikTok, LinkedIn, Pandora, Starling Bank and Gillette Venus.
PepsiCo's global sponsorship of the Women's Euros featured an integrated marketing campaign than ran across digital, social, PR, POS, OOH and on-pack promotions (featuring Lucy Bronze, Nikita Parris and Leah Williamson). These reinforced PepsiCo's vision of driving inclusivity and gender equality across the entire game – men's and women's.
Kit sponsor Nike created flags and t-shirts for the squad to wear on the pitch at full time, featuring the brand's famous swoosh and the word 'Home', a nod to the iconic phrase from football anthem Three Lions. The brand also released a high-energy video campaign featuring the tagline 'Never Settle, Never Done', depicting women and girls expertly playing football – highlighting the opportunity for change presented by the Women's Euros.

What's next?
After this tent pole moment for women's football in England, what's next for the game and how can the sport continue to build momentum? The 2022 Euros have attracted thousands of new fans and an array of new sponsors, but maintaining momentum will be crucial if women's sport is to treble its value to £1bn by 2030.
Women's football has enormous reach – in fact, the sport's fans are far more likely to advocate for a brand's sponsors and consequently buy the advertised products. Data from Neilsen Fan Insights backs that up by revealing that fans of women's football are more gender balanced and younger than fans of men's football – an attractive combination for brands.
With the Lionesses becoming household names, their marketing value is rocketing. England's captain Leah Williamson recently agreed a deal with Italian fashion house Gucci – more than likely the first of many big brands looking to snap up the superstar players.
Cordis
The record TV and live audiences, not to mention the Lionesses' historic win, should be enough proof to brands that now is exactly the right time to invest for the long term in women's sport. The sponsors realise that reaching out online is the key to fostering broader audiences. With a plethora of cross-channel advertising platforms now at our disposal, there's no reason not to follow in example and enhance your business with digital media.
If you're looking to reinvigorate your marketing strategy, get in contact with Cordis. Using our creative skills in events, social media, copywriting, graphic design and videography we can help your business succeed in 2022!