PE1's Fire & Ice Christmas Spectacular!
As the skies blazed a mighty crimson – mystical figures roamed Peterborough One's festive gardens. Adorned with sparkling lights, divine decorations and magical music – Cordis brought Christmas to the retail park in an awe-inspiring fashion.
Following the centric theme of 'Fire & Ice', the event was exploding with entertainment – from spellbinding stilt walkers to fantastic fire dancers; there was something for everyone at our Christmas Spectacular!
Calvos
As night descended upon the retail park; two luminous figures emerged from the shadows. Glowing an icy blue; the orphic tranquillity of Calvos draws from Norse Mythology – forging a uniquely hypnotic brand of street performance, praised by the likes of Brian May and Hugh Grant!
Calvos have taken their serene blend of stilt-walking and crystal ball juggling to audiences across the UK, Europe, Asia, America and the Middle East. The larger than life walkers traversed Peterborough One's walkways, whilst mesmerising young and old with their mystical tricks.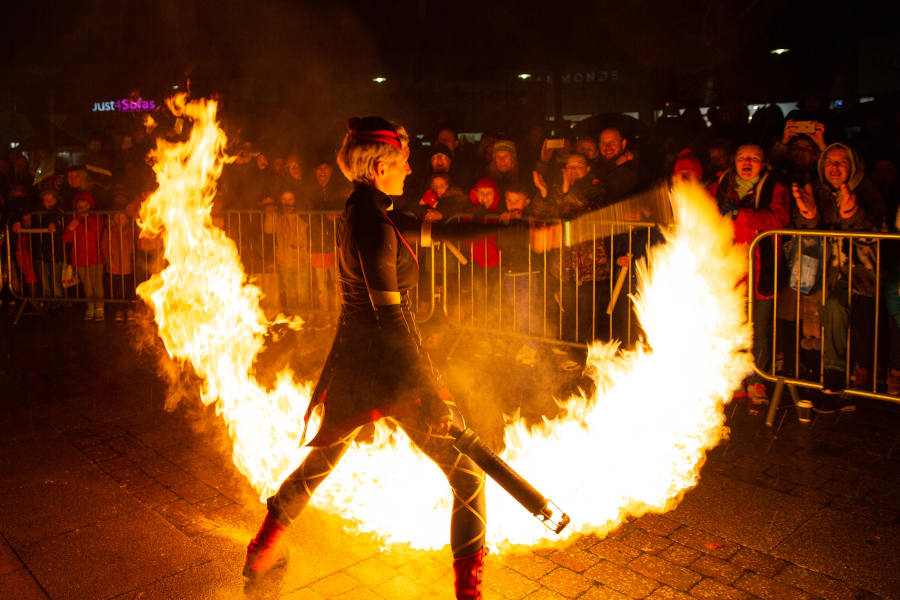 FlameOz
Sparks flew on our festive stage, as FlameOz performed their death-defying show. Throwing fire into the night sky; leaping through blazing hoops – the entertainers astounded audiences with sublime spectacle!
The multi-award-winning fire dancing act has performed in over 40 countries, thrilling more than 1000 audiences. With their eye-popping pyrotechnics; FlameOz added further exhilaration to the celebration's heart-pounding finale that culminated with stunning fireworks!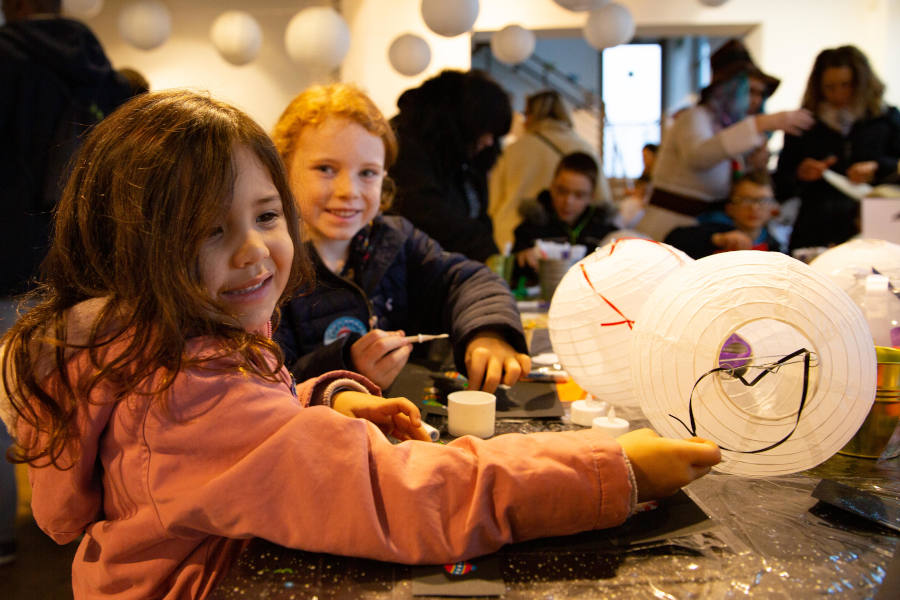 Lantern craft workshop
Provisions were made for little ones to demonstrate their creativity during a festive lantern craft workshop. Children could design and decorate a paper lantern, using a variety of materials and techniques during this free activity. Trained supervisors were on hand to offer guidance and creative expertise. Over 260 crafters took part in this popular workshop.
Stage show: hosted by Josh Lovatt
As fairground lights danced across the retail park, our stage was the epicentre; thrilling audiences with great entertainment throughout the evening. Given an infectious exuberance by the brilliant host – radio personality, Josh Lovatt; the show ranged from live music to classic pantomime.
Stage highlights included a rendition of The Wizard of Oz by Peterborough's New Theatre, Christmas carols from Lucy's Choir, plus various game shows with the chance to win high value prizes.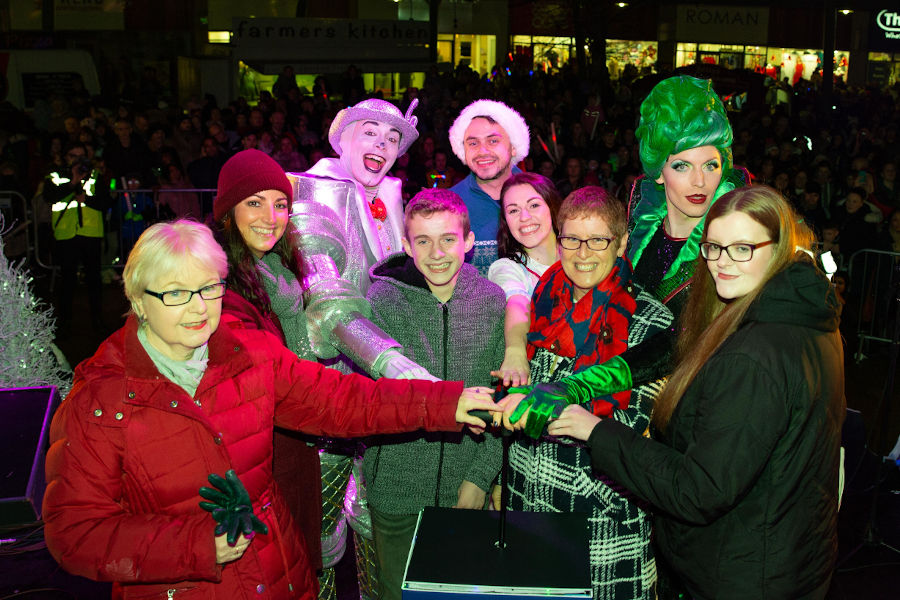 Peterborough's Unsung Heroes
Prior to the event, Cordis reached out to PE1's visitors and shoppers asking people to nominate individuals from the local area who warranted special recognition. The selected unsung heroes were chosen, who then helped switch on Peterborough One's Christmas Lights on stage.
Sparks in the park
As the festivities reached their climax; a Fire & Ice Lantern Parade took place – led by FlameOz and Calvos; children used their recently crafted lanterns to illuminate the path to the 35 ft Christmas tree! After a dramatic countdown, the lights were turned on by Peterborough's Unsung Heroes. A 15-minute dazzling display of fantastic fireworks choreographed to Christmas music ensued.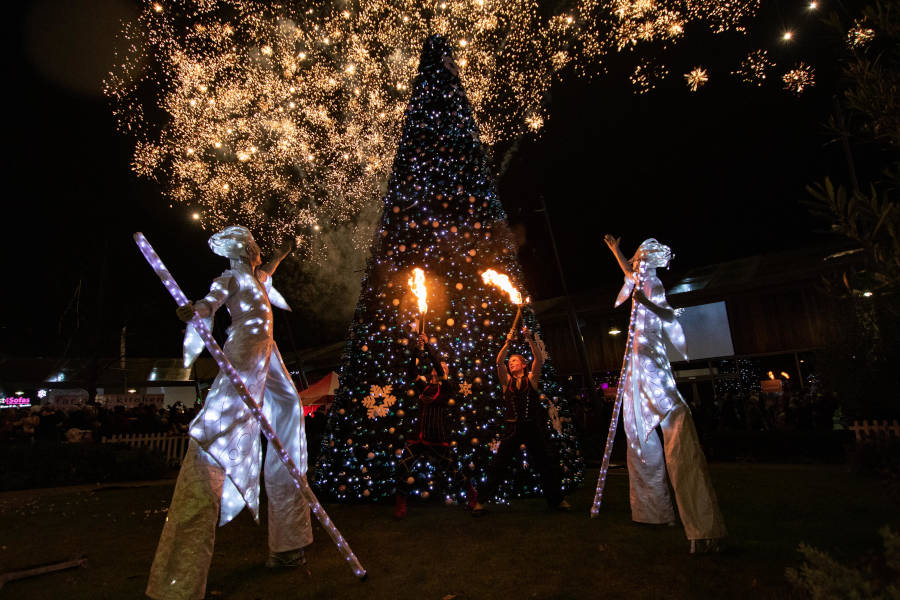 A huge success!
Thanks to a superb social media campaign and brilliant design work to accompany the event; thousands of people flocked to Peterborough One for the Fire & Ice Spectacular – our event was even featured in The Times! PE1's followers took to social media to express their delight at the night's proceedings:
Thank you all for an amazing evening. It's become part of our lead up to Christmas tradition! It's got to be one of the best events in Peterborough for us!

Chantelle Jackson
Kyle Boyall: "Absolutely amazing fireworks display. Amazing entertainment – lots of activities to do."
Clare Barry: "Another great evening. We've been to a fair few of the kids' workshops now and every time it's been enjoyable and fun. Thank you for some great events. The fireworks were great."
Katrina Craggs: "Loved this evening – had a fab time and my daughter loved making her lantern. Brilliant firework display."
On social media, organic promotion of the event reached over 65,000 people with an engagement rate of 7%. The activity period also saw PE1 outperform the likes of Queensgate Shopping Centre and Springfields Outlet on social media.
Paul Dunn, Asset Manager at Peterborough One Retail Park, says: 'We were thrilled to host yet another incredible event at Peterborough One, and were delighted to see such brilliant feedback from our valued customers. Our Fire & Ice spectacular was truly just that, and a fantastic way to celebrate a successful year at the retail park. We have kicked off the festive season in style and, with so many more things to look forward to over winter and beyond, we can't wait to welcome customers back!"
Overall; we are immensely proud of this huge success. If you're looking to host an event of epic proportions – get in contact with Cordis!